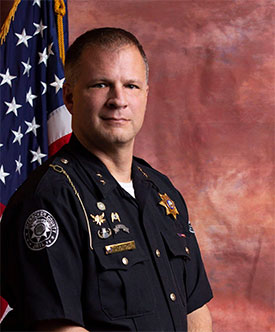 Contact Information:
McCracken County Jail
400 Clarence Gains Street
Paducah, KY 42003-1700
Phone: (270) 444-4730
dknight@mccrackenky.com
The role of the McCracken Jailer is to monitor and manage operations at the McCracken County Jail. The Jailer's duties include maintaining order in the jail, inmate processing, and invoking disciplinary action where necessary.
Jailer Knight is a graduate from Livingston Central High School.  He began his career in public service, serving in the Marine Corps. from 1992 to 1998.  He later served with the McCracken County Sheriff's Department starting in 2002 where he worked for 11 years within the Patrol and Drug Divisions.  he also served as the department's SWAT Team Sniper.  He transitioned to the jail in 2013, where he served until being elected Jailer in November 2018.